Call to check shipment rates

Return policy within 14 days
Leave your home with peace of mind.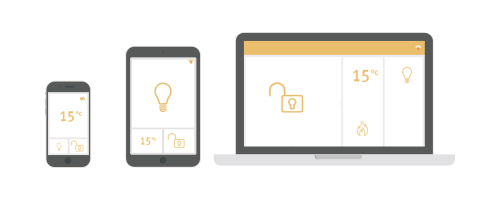 Control your home from anywhere
The Egardia app for Android or iPhone allows you to easily control your alarm system, heating and lighting from anywhere, 24/7.
Egardia Security Service
24/7 connected to the Egardia Virtual Alarm Center
Unlimited alerts by telephone and SMS
Including personal account to control your system from anywhere
Video Security Service
Add Egardia Cameras with the Egardia Video Security Service to view your home from anywhere.
Secure Cloud Storage Video Recording in an alarm event
Video immediately pushed to your phone in an alarm event
Live video access from anywhere using the Egardia App
Discover the Egardia accessories that can turn your home in a Secure Home
All additional Egardia accessories are easily added to your Egardia Alarm System in just a couple of seconds.
Installing Egardia is easy
Just 30 minutes of your time is needed to complete 3 simple steps.
1
Place the Egardia sensors. Drilling holes not required.
2
Connect the Alarm System with your modem and register your account
3
The Alarm System automatically connects with the sensors
Your home is now upgraded to a Secure Home!
Free security advise
Determining which detectors you need for your home is easy. We've created a handy chart so you can easily determine this yourself. Need help? Call us on +31 88 383 88 88 for a personal security advice.
Check our security advise